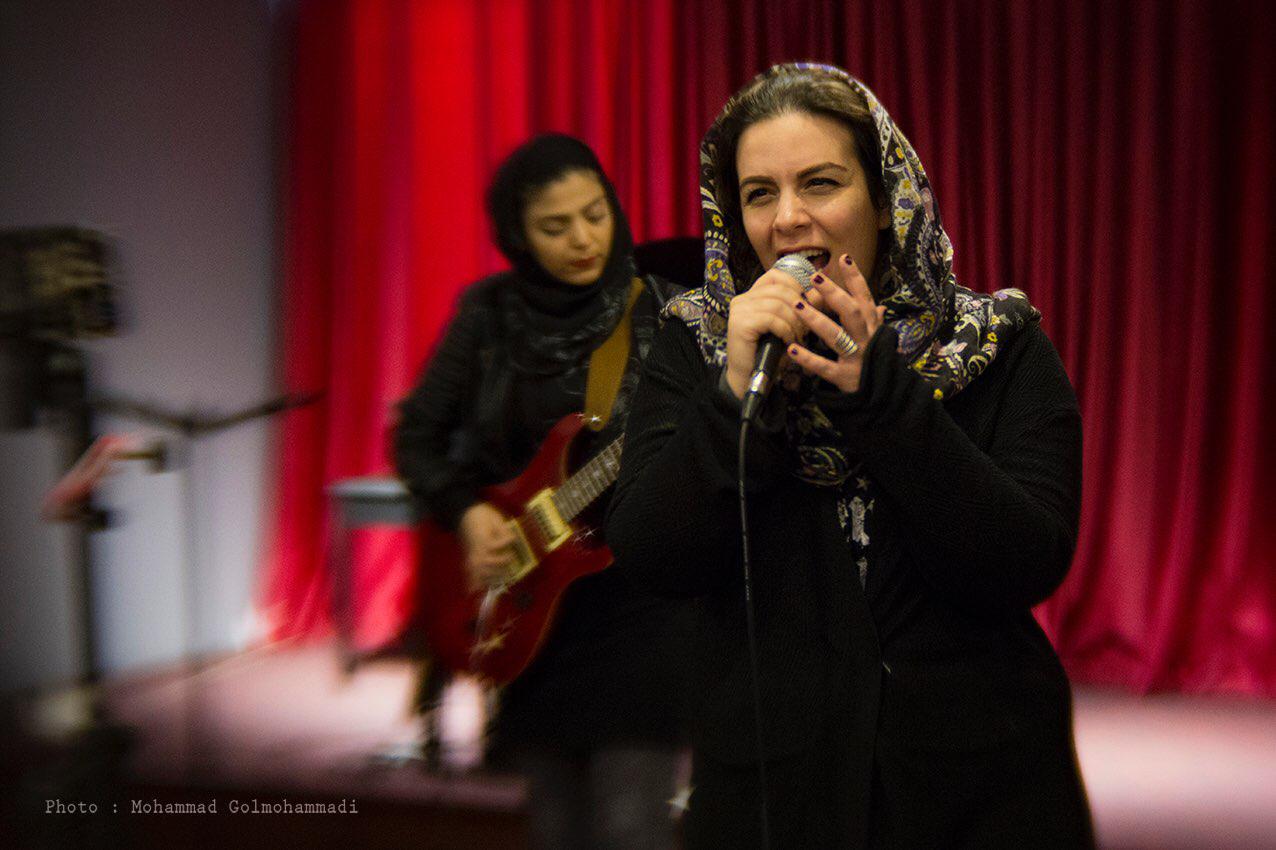 Irna`s interview with Sanam Pasha
Sanam Pasha is a female Iranian musician, who despite all the limitations, finally got to get the permission agreement for her rock band from the officials. She believes the existing misconceptions about rock music stem from the lack of enough media coverage.
Pasha (born in 1978, Tehran) is an Iranian songwriter, vocalist and vocal coach, who decided to stay in Iran and face the limitations rather than going abroad, and her endeavors to work within the regulations of Ministry of Culture and Islamic Guidance, finally paid off and she could stage a concert in Tehran on August 25, 2018.
Before founding her band under the name of Sanam Pasha, she had been actively engaged in songwriting and composition, mostly because of the fact that she didn`t have the chance to sing. But finally, she succeeded in getting the permission agreement form the officials and her band`s show could sell out all the tickets in only two days.
She has also founded a singing contest which has been held annually since 2008. Regarding the contest, she had said that her intention was to provide a chance for those who are interested in rock music, especially women, to sing on the stage.
The following is an interview with Sanam Pasha by IRNA`s interviewer
-when did you decide to pursue music professionally?
Choosing music wasn't actually a choice for me! I was born in a musical family. My mother was an Iranian folk musician, and I was learning piano from the age of 7 to 18, and then with the help of my mother who was a student of Maestro Saleh Azimi and Sima Bina, I learned about Iranian folk music.
-but the genre you are working on now, is not Iranian Folk music, how did this change from there to rock music happened?
-until then I thought that the whole music could be divided only to Iranian folk music, western classical music, and pop. And I didn't consider pop music as proper art! But one day, accidentally, I came across The Doors` adaptation of "Adagio in g minor", this adaptation was by a rock band with a rock mixing, and the sound of the electric guitar playing the "Adagio's melody mesmerized me. The guitar evoked a transcendent feeling that I had never experienced before. I also came to the belief that classical music is not the voice of our industrial period of time. In a mechanical and industrial world, classical music couldn't manage to be on a harmony with my every day's emotions, and the only thing which it could to was to soothe me a little bit. So gradually, I turned to Rock music, and I came to the understanding that rock can fit me very well.
– so, your path to rock music was kind of similar to the path that the neoclassical musicians paved?
-exactly, but my musical education background was different from theirs.
– its really interesting for me to know that how is it possible that you who for years were into classical music and Iranian folk music, did manage to change from there to rock music?
– I started perusing the old school rock bands and then I started to take classes, even some classes abroad, and I also completed advanced solfeggio courses. And then, I got a scholarship from Berklee college of music, and I studied online courses of songwriting and then vocals there.
-what could be the exact label for your music?
-it's pretty much impossible to categorize today`s music, even the genre in which the artist of a particular work claims his work is, sometimes is categorized into another genre by the critics. Even in the single songs, we can say that, in today`s music it`s impossible to easily ascribe them to a particular genre as in the current music, the boundaries between different genres and different subgenres are fading away. However, you may say that old school rock has a big part in my music.
– one of the major differences between applying Persian and English lyrics to western music is the difference between the number of the syllables, which makes it difficult for the people who want to write Persian lyrics for western music, how did you manage to address this problem?
-that`s actually a very good question, the problem you talked about is a serious one, and I tried to address it by using particular tremolos and sometimes for the words which end in a consonant, by holding that word and trying to express the feeling of the word in the tone.
-how did Sanam Pasha band form?
It was about five years ago, which me and Bita Sadeghi who is now plays the electric guitar for the band, decided to perform some of the songs that I had written along with some of our favorite songs. For years, I was in different bands as back vocals but it could never satisfy my heart. And I decided to found my own band, and performing the songs that I had written before. At first, it was only me and Bita, but then Rima Hassan Zadeh (Bassist) and Armina Jafari (drummer) joined our band.
All the bandmates have the same taste in music and it has made things really easy for us. In our first show, Forooq Fazli (keyboardist) and my daughters Ava and Nava (back vocals) were guest members of our band
-the limitations imposed on female musicians in Iran, especially imposed on the females who work in rock music is pretty much severe, did it ever occur to you to immigrate?
-no never! I have always taken pride in being an Iranian, and I loved to stay in Iran and play my music in my own country.
-most of the music performed by women in Iran, is more of an entertainment activity, but yours is not much for the purpose of entertainment, do you think your audience felt the difference?
– our music is much different form the music which is performed for entertainment, and our audience are also interested in serious music rather than the music which is produced for the purpose of entertainment.
– do you agree that the all-female concerts have been a place just for entertainment?
-the all-female concerts need a lot of improvement, maybe some of the people who came to our concerts were not particularly our band`s audience, but the very fact that they knew about us, that our music is not for entertainment and it's a serious music in rock genre, drew them to the concert. I think this matter needs serious academic studies to determine the musical taste of Iranian women.
– have you ever digressed from your aesthetic and ideological values, to make your music more popular?
– no and I would never do such a thing! Otherwise, I wouldn`t be Sanam Pasha anymore! My experience tells me that when your music has originality, it actually even draws more audiences to your music. But in the mixing part, I think it would be ok to think of the audience`s taste.
-what are your criteria for the lyrics?
– apart from the lyrics that are written by myself, I choose the lyrics that I can relate to their lyricist or poets. And I usually use Parvin Etesami and forooq farokhzad`s poetry (who were Iranian women) and then change them to the lyrics format.
– why do you think some people think of rock music as a satanic music rather than looking at it from an aesthetic point of view?
– well I suppose, in the first place, the blame is on the people who only try to imitate only the outer appearance of the subcultures associated with rock music, these people usually know nothing about this genre and have been fooled by the commercial currents of rock music. Also, our society, have taken these people as the representative of rock music, is an actor who plays the role of Satan, the Satan himself? Or is an actor who plays the role of a murderer, actually a murderer? These things in the dramatic arts have been normalized in our society, but in musical performances, unfortunately, it hasn't been completely normalized for the people. I also think, if rock scenery in Iran could have enjoyed enough media coverage, this misconception wouldn't have taken place.